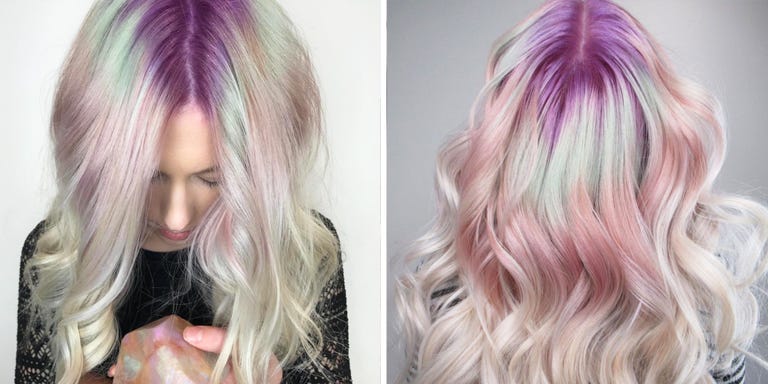 Spring is in the air (finally) and it is time to dye your hair a bright.
We are not talking about Emma Roberts' bubblegum-pink hair or Paris Jackson's peach highlights. We are talking about the newest trend: GEM ROOTS. The crystal-inspired dye job was first spotted by Allure on Las Vegas-based hairstylist Chita Beseau's Instagram. To get the muted-purple look, Beseau used the rainbow roots color technique. What are rainbow roots? It involves hairstylists coloring only the root area of someone's hair with every shade of red, orange, yellow, green, bue, indigo, and violet. This is similar to Steph Scissorhands signature of painting every shade of the rainbow onto someone's hair for a gradient effect.
Gem Roots are different. Instead of using the full spectrum of colors, Beseau applied only soft, pastel colors. Looking to recreate the color effect seen in crystals, Beseau painted purple, mint, and pink dyes onto her client's platinum blonde hair. Typically, these colors are applied all over or just at the ends. Focusing them just on the roots is a fun way to try out the muted pastel trend for spring without having to color your whole head. When they fade away, you're once again left with blonde hair. Beseau told Allure that she specifically chose colors that paid tribute to the "spiritual tones," and chose rich purple to layer over the client's roots to re-create the same depth seen in geodes and other mineral rocks. The result? A definitively cool hair look fit for spring.
 Is anyone looking to get Gem Roots?
Anyone willing to take the time and the risk, Let's us know!!!